A system boiler directly heats your central heating system as well as hot water for a storage cylinder. They are heat only and work like a regular (conventional) boiler on the principle of stored hot water, however system boilers do have some distinct advantages.
Discover more
System boilers are easy to install
Installation of a system boiler can be easier, quicker and neater than the installation of other boiler types. This is due to many of the individual components of the heating and hot water system being built into a system boiler. By building in components, the unit is more compact and in many homeowners eyes more attractive.
System boilers are great for high hot water demand
A system boiler uses a large tank of stored water meaning you can use multiple taps at the same time without a reduction in pressure. This makes it ideal for busy or large households.
System boilers are fast and economical
System boilers include a pump, which means it responds quickly and has more economic running costs.
No need for a cold water feed tank
System boilers don't require a feed and expansion tank, or a cold water feed tank as they can be used with pressurised cylinders. This can save space and still gives you the option of having a system boiler even if you don't have a loft.
System boilers with solar thermal
System boilers are also compatible with solar thermal solutions; therefore if you have this type of boiler already and want to reduce your heating bills, installing a solar thermal solution will do this. By creating hot water using the sun, you can also take advantage of the RHI scheme that launched in Spring 2015, which will pay you for the hot water you create.
Condensing system only boilers
As with the other types of boiler, any system boiler bought today will be a condensing system boiler, and will capture the latent heat in the exhaust fumes of the boiler with a heat exchanger, so less fuel is used to produce the same amount of heat.
Points to note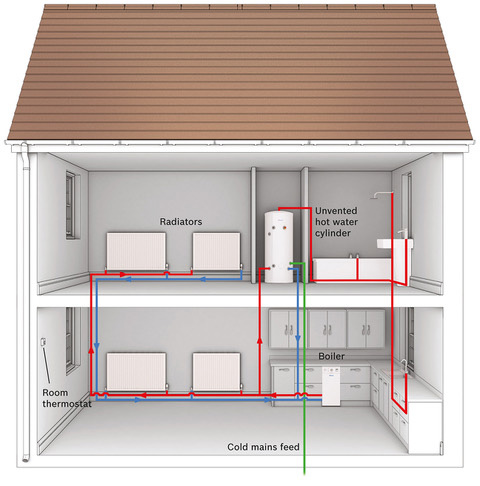 Oil system boilers are floor mounted due to weight.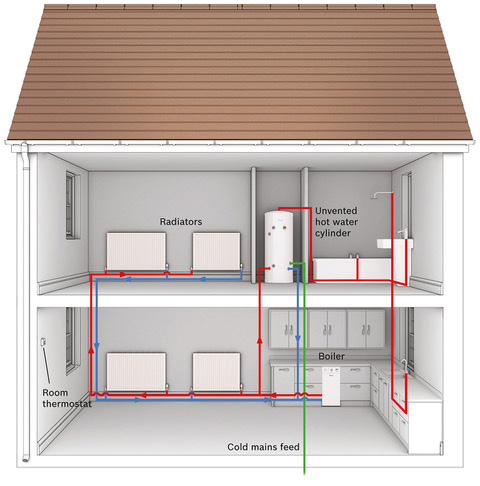 Although there is no need for a cold water feed tank, system boilers actually take up more space than combination boilers. This is due to the need for a hot water tank.
The tank needs to be well insulated
The hot water cylinder or tank needs to be well insulated to reduce the amount of heat lost (and energy wasted). This is really more of a consideration than a disadvantage as insulating a hot water tank is cheap and straightforward in most cases.
The amount of hot water you can use will be dictated by the size of your tank or cylinder as you will need to wait for more water to be heated once you have used it all.
All works guaranteed. No call out fee. No job too big or problem too small.
If your requirement is not listed or is a little more involved, please feel free to call us on 07949 064 979 or get in touch.
Have an emergency?
Call us on 07949 064 979
No call out charges, Available 24/7